Infiniti EMERG-E concept breaks down during the Festival of Speed 2012
07-07-2012, 04:15 PM
(This post was last modified: 07-08-2012 12:34 AM by car fanatics.)
Post: #1
car fanatics
NEWS

Posts: 12,754
Joined: Aug 2011
Drives: Cadillac Sixteen
Reputation: 3
Infiniti EMERG-E concept breaks down during the Festival of Speed 2012
Youtube
Photo credit:
Infiniti
July 7, 2012
By: CF staff
Infiniti EMERG-E concept breaks down during the Festival of Speed 2012.
About the Infiniti EMERG-E
The demonstrator cars remain true to the spirit and inspiration of the original concept car; twin electric motors generate 402bhp (300kW), making EMERG-E capable of accelerating from 0-60 mph in just four seconds - and from zero to 130 mph in a single, seamless 30 second burst. Crucially, it also operates as zero emission urban transport over a 30-mile range and when the range-extender petrol engine functions in concert with its twin electric motors, it produces a CO2 output of only 55g/km (NEDC cycle) over a 300-mile range.
These advanced motors direct their power via a single speed (XTRAC) transmission to create what is effectively an open differential, this arrangement significantly reduces driveline friction losses. A quartet of inverters controls the motors and their energy regeneration under braking. The recovered power is directed to a lithium-ion battery mounted behind the seats. The battery can be recharged from a mains power supply (domestic and fast-charge) and stores sufficient energy to propel the INFINITI EMERG-E for 30 urban miles, at which point the on-board petrol engine starts up to act as a generator. This light, ultra-compact, Lotus Engineered three-cylinder 1.2-liter 35kW engine has been purpose-designed for its range-extending role. It operates between crank speeds of 1500-4000rpm, producing peak power at only 3500rpm.
The program remains a process of continual learning, and already there have been fundamental improvements crucial to the success of these running prototypes. "If you notice, the concept car doesn't have a spoiler," says Hardcastle. "We added the spoiler onto the cars because we needed to balance the front and rear lift of the car. The spoiler was therefore specifically designed to be purely functional as opposed to being added just for design purposes."
It doesn't stop there, either. As an exploratory study into the future of vehicle technology, the benefits of which will change the approach to environmentally sustainable and responsible performance, the demonstrators are embarking upon a year-long testing schedule.
Read more.
---
Reviews
07-08-2012, 05:27 AM
Post: #2
greyhairedpete
GM fan who sells Fords

Posts: 985
Joined: Oct 2010
Drives: Mazdas
Reputation: 10
RE: Infiniti EMERG-E concept breaks down during the Festival of Speed 2012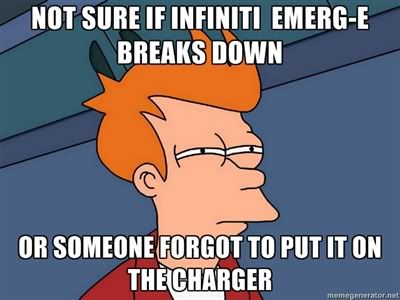 07-08-2012, 01:46 PM
Post: #3
supremor
Master Planner

Posts: 6,336
Joined: Oct 2010
Drives: 1989 Mercedes-Benz 240TD
Reputation: 21
RE: Infiniti EMERG-E concept breaks down during the Festival of Speed 2012
---
"Losers always whine about their best. Winners go home and fuck the prom queen."

- Sean Connery, The Rock
07-08-2012, 05:53 PM
Post: #4
zguy
Wack Job in da SAAB

Posts: 3,050
Joined: Oct 2010
Drives: Saab 9-3
Reputation: 5
RE: Infiniti EMERG-E concept breaks down during the Festival of Speed 2012
I'd say its embarassing but its concept vehicle and its suprising its out there running
---
"Why don't I go to Church?"
the same reason you don't go unicorn hunting
User(s) browsing this thread: 1 Guest(s)