All-New 2013 Ford Escape makes appearance at the 2011 LA Auto Show
11-28-2011, 08:56 AM
Post: #16
lengnert
Expert Gearhead

Posts: 3,909
Joined: Oct 2010
Drives: 2008 Ford Fusion SEL
Reputation: 11
RE: All-New 2013 Ford Escape makes appearance at the 2011 LA Auto Show
Well, having experienced a few Escapes in my day (wife's '04, our '08, and indirectly my sister's '01 Tribute and her current '10) I can say that I am a fan of the model.

This new one will be a major upgrade in a lot of ways.

I will lament in some ways, though, the direction of the more modern styling. This isn't because I find the new models styling to be unattractive. I agree that it looks like a lifted Focus in a lot of ways. This isn't a bad thing as the Focus is a dynamite looking car and the new Escape takes to it pretty well.

It is more due to the fact that I really like the throwback styling of the current Escape and its predecessor's. I always have.

Oh well, at least in my opinion, even though the new Escape will be closer in styling to its competitors now, it still will be one of the better looking small SUV/CUV's.
---


They call me Ford-O Baggins.

Must have the PRECIOUS!!!!!
11-28-2011, 10:23 AM
Post: #17
bluestinger66
Road Test Editor

Posts: 3,782
Joined: Oct 2010
Drives: A car. And a truck...
Reputation: 30
RE: All-New 2013 Ford Escape makes appearance at the 2011 LA Auto Show
AudiR8;153772 Wrote:

bluestinger66;153736 Wrote:Its a likable design. I dont have a problem with the corporate look, its worlds better than the CRV's.
The gauge cluster reminds me of Camaro or Malibu.
The center console is really nice with the deepset screen and controls.


Audi, you have to keep that bag on until you remove the Ridgeline from your sig...


:ifyousayso:
Attaboy!!
You may now debag, D-bag!
---
11-28-2011, 12:25 PM
Post: #18
redsky
___ ___

Posts: 1,418
Joined: Nov 2011
Drives: 2008 Saturn Sky (Sold) 2009 Honda Accord Coupe V6 manual.
Reputation: 11
RE: All-New 2013 Ford Escape makes appearance at the 2011 LA Auto Show
LOL! He didnt bother to move the seat back.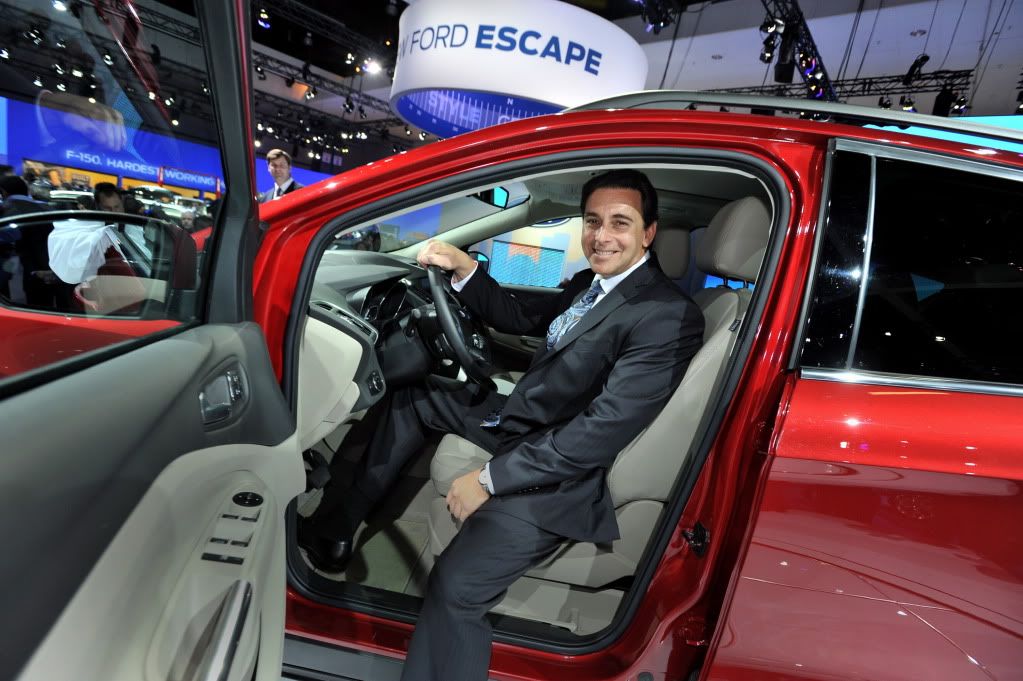 User(s) browsing this thread: 1 Guest(s)