2011 SEMA Show: 2012 Toyota Camry Daytona 500 Pace Car
10-27-2011, 04:47 PM
Post: #1
car fanatics
NEWS

Posts: 12,860
Joined: Aug 2011
Drives: Cadillac Sixteen
Reputation: 3
2011 SEMA Show: 2012 Toyota Camry Daytona 500 Pace Car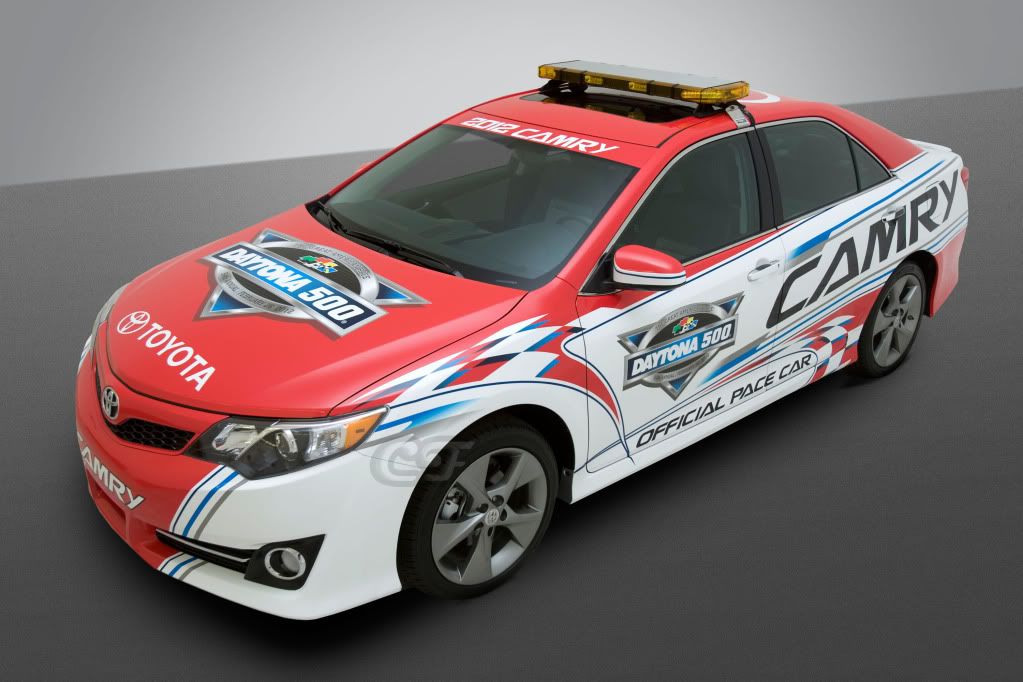 Quote:PRESS RELEASE:
On display at the 2011 SEMA Show Toyota exhibit will be the all-new 2012 Camry Pace Car, which will lead the field for the start of the 54th running of the Daytona 500® on February 26. It will be the first time a non-GM, Ford or Chrysler nameplate has paced the "Great American Race®." David Reutimann, Camry Sprint Cup Driver for Michael Waltrip Racing, will be on hand to talk about the Camry Pace Car during a press conference at the SEMA Show in the Toyota exhibit on Nov. 1 at 10 a.m. Pacific Time.

The Camry Pace Car is based on the all-new 2012 Camry SE, which carries a powerful 268 horsepower V6 under the hood. It is specially-equipped with Goodyear Eagle F1 Asymetric tires mounted on BBS RS 8.5 x 19 wheels, a StopTech Big Brake Kit, TRD custom stainless steel exhaust and Tein adjustable suspension. Safety equipment includes a roll cage, four-point Simpson racing seat belts, Whelen LFL Liberty LED lightbar, and an on-board fire extinguisher.

Camry has been the best-selling car in America 13 of the past 14 years and for nine years running. The all-new Camry features a bold, sophisticated new design with a more spacious interior, improved driving dynamics and an even quieter ride than before. The new model features class leading safety, fuel economy and multi-media technology.

Toyota has previously provided pace vehicles at several NASCAR tracks, including Auto Club Speedway of Southern California, Charlotte Motor Speedway, Chicagoland Speedway, Dover (Del.) International Speedway, California's Infineon Raceway, Kansas Speedway, Martinsville (Va.) Speedway, Nashville Superspeedway, New Hampshire Motor Speedway, Phoenix International Raceway, Richmond (Va.) International Raceway, Wisconsin's Road America and Watkins Glen (N.Y.) International.

In 2004, Toyota began participating in NASCAR competition by fielding Tundra's in the NASCAR Camping World Truck Series (NCWTS). In 2007, Toyota began competing in the NASCAR Sprint Cup Series (NSCS) and the NASCAR Nationwide Series (NNS) with the Camry.

Toyota has won three consecutive manufacturer's titles in the NNS (2008-2010) with the Camry, and Toyota racers have earned one driver's title (Kyle Busch in 2009) and registered 60 race victories in the NNS. In NSCS competition, Camry drivers have earned 36 first-place trophies.

In seven seasons participating in the NCWTS, Toyota has captured five consecutive manufacturer's championships (2006-2010), and Tundra drivers have won driver's titles with Todd Bodine (2006 and 2010) and Johnny Benson (2008), and have earned 88 race wins.

At Daytona International Speedway, Toyota drivers have recorded eight NASCAR wins across NASCAR's three national touring series, including one NSCS win (Kyle Busch in 2008), two NNS wins (Denny Hamlin in 2008 and Tony Stewart in 2008) and five NCWTS wins. In 2008, Hamlin claimed Toyota's first-ever NSCS victory in a non-points qualifying event to determine the Daytona 500 starting lineup.

2012 CAMRY PACE CAR FEATURES

Engine: 3.5 litre, 6-cylinder, aluminum alloy block
With aluminum alloy head

Valvetrain: Twin-cam, 4-valve/cylinder with dual VVT-i

Horsepower: 268@6200 rpm

Torque: 248lb-ft@4700 rpm

Wheels: BBS RS 8.5 X 19

Tires: Goodyear Eagle F1 Asymmetric

Brakes: StopTech Big Brake Kit
332x32mm, two-piece floating AeroRotors
ST-40 four-piston calipers
Stainless steel brake lines

Safety Equipment: Roll cage
On-board fire extinguisher
Four-point Simpson racing seat belts
Whelen LFL Liberty LED Lightbar

Exhaust: TRD Custom Stainless Exhaust

Suspension: Tein Adjustable Suspension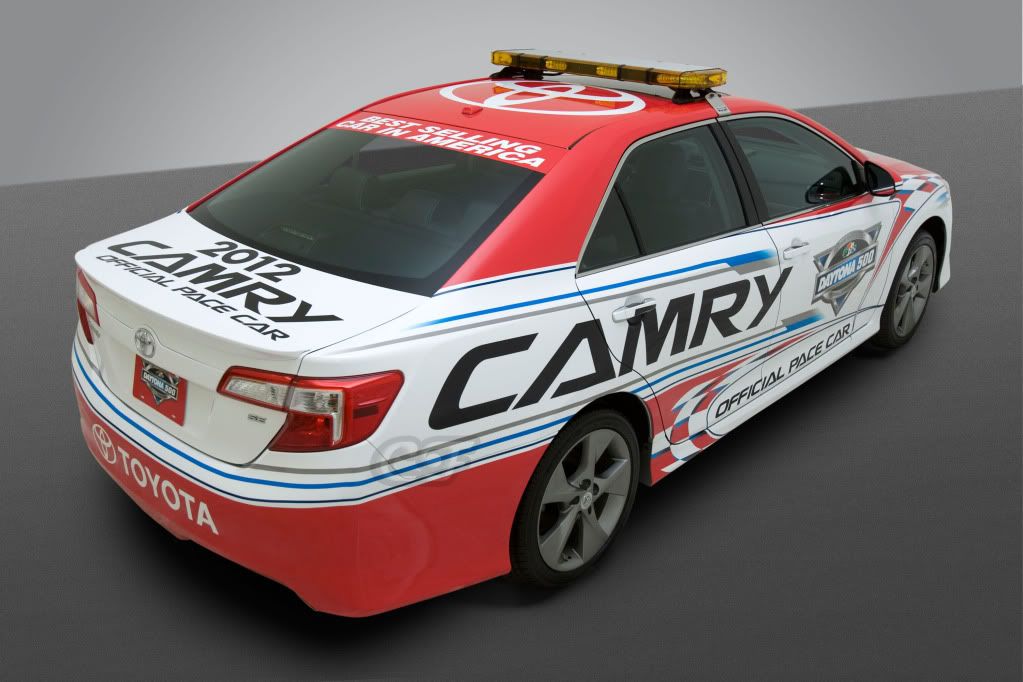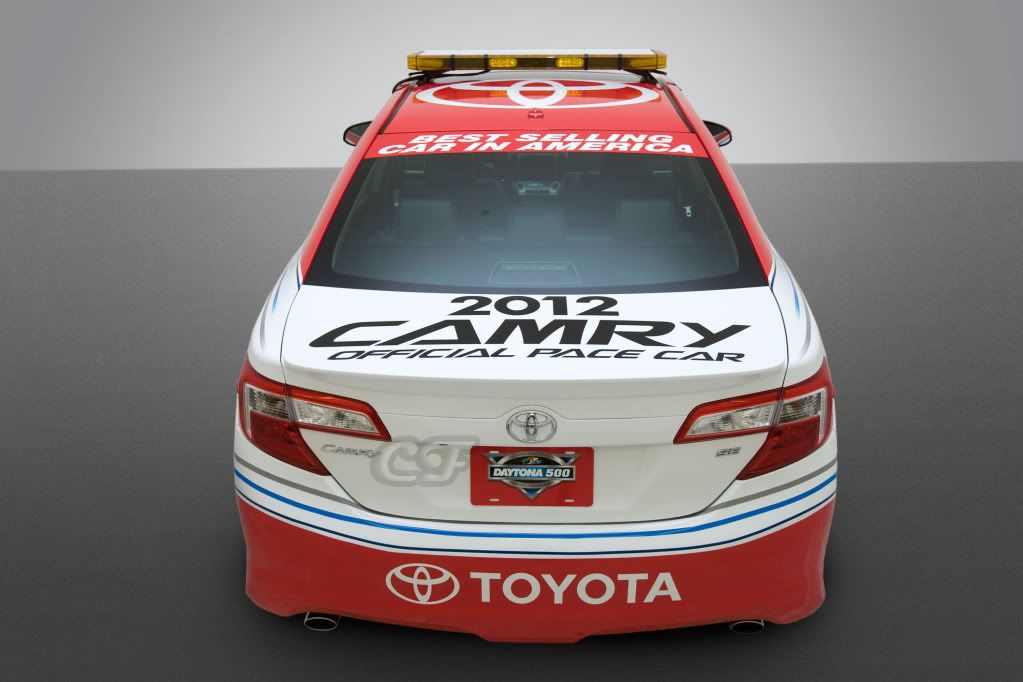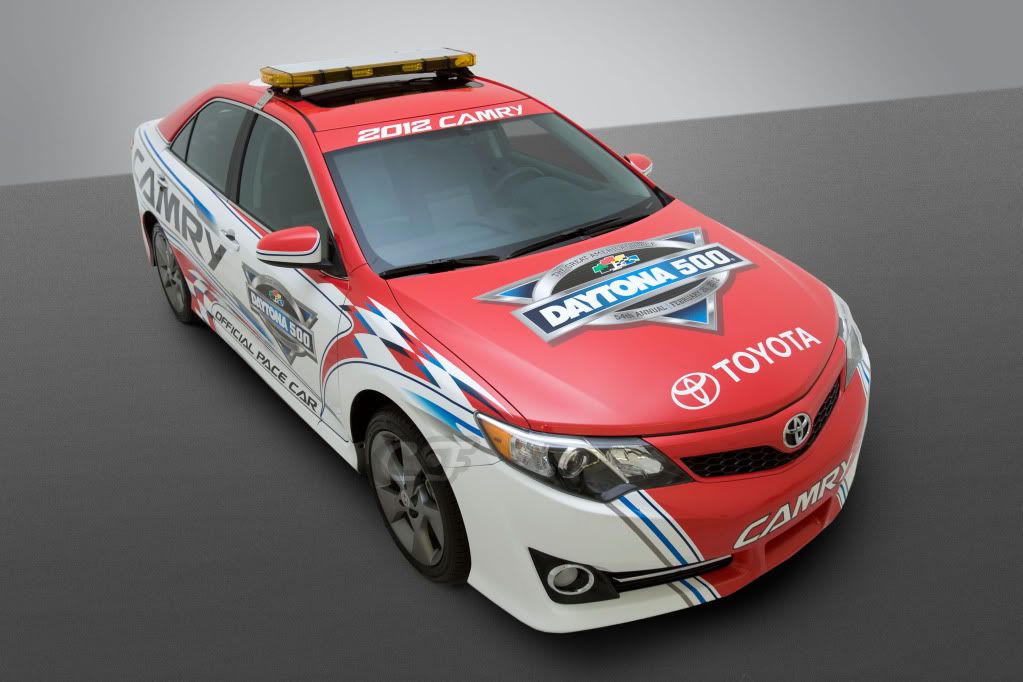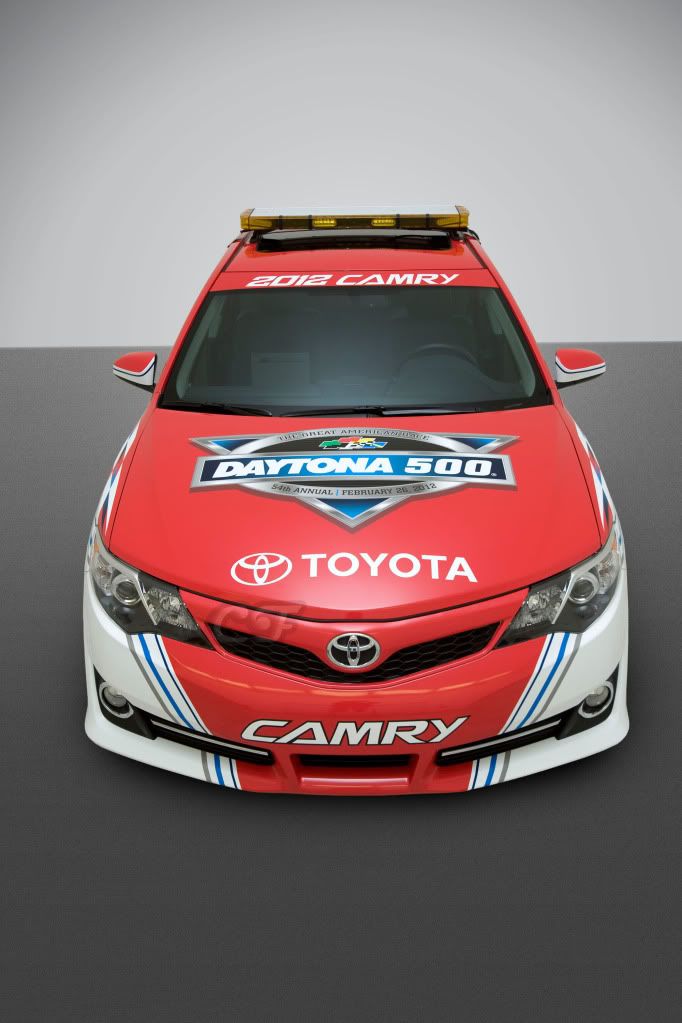 [TOYOTA]
[PHOTO CREDIT: TOYOTA MEDIA]
---
Reviews
10-27-2011, 05:11 PM
Post: #2
CTS-Vluvr
Road Test Editor

Posts: 5,248
Joined: Nov 2010
Drives: People crazy
Reputation: 21
RE: 2011 SEMA Show: 2012 Toyota Camry Daytona 500 Pace Car
What a complete, fucking disgrace....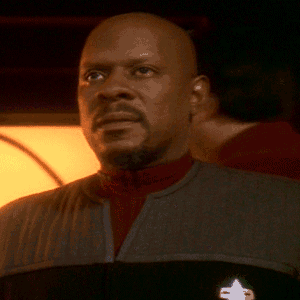 ---
"I know, the rest of the world thinks American's are arrogant, and to be fair, fuck you!" Adam/Top Gear America

10-27-2011, 06:16 PM
Post: #3
ncguy
I am God - Trust in Me!

Posts: 4,178
Joined: Nov 2010
Drives: '12 Chevy Sonic LTZ
Reputation: 21
RE: 2011 SEMA Show: 2012 Toyota Camry Daytona 500 Pace Car
I honestly couldn't give a rats ass about Nascar anymore.... one of the main reasons - the fugly POS that this threads about.
10-27-2011, 07:35 PM
Post: #4
kamikazeKID
kamikazeKID

Posts: 1,585
Joined: Feb 2011
Drives: Toyota Corolla
Reputation: 12
RE: 2011 SEMA Show: 2012 Toyota Camry Daytona 500 Pace Car
Cool! :OHYEAH!:
10-27-2011, 07:39 PM
Post: #5
AudiR8
Free Candy & Naps

Posts: 21,100
Joined: Oct 2010
Drives: Cozy Coupe
Reputation: 23
RE: 2011 SEMA Show: 2012 Toyota Camry Daytona 500 Pace Car
---
User(s) browsing this thread: 1 Guest(s)